Reached 100 page likes on our Facebook page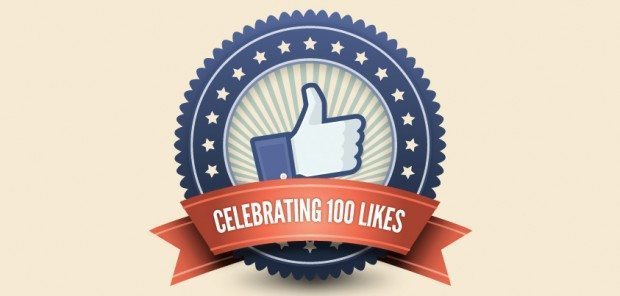 Celebrating the Milestone today as we reached 100 Likes on our Facebook page. I would like to take this opportunity to give a big thank you to my friends and family (and the odd random user) for helping us reach this milestone. Also an Big, Big, thanks to Simon Wright a friend of mine since primary school who jumped on board late in the game to become the 100th Like.
Simon is one of the most amazingly talented musicians I have ever had the pleasure of having in my life as a friend, you should check out is talent on his Facebook page and get down to the Evelen on Brunswick Street in Fitzroy, Melbourne as he starts yet another residency from June 5th this year.
Thanks to Dry Icons for supplying the base vector for our design.
UPDATE 31st JUNE 2012:
Please do not use this logo for your own personal use, this belongs to me and was created in house in my studio. I have found multiple Facebook pages and other peoples blogs that have just taken this and smacked it on their own page. That is copyright infringement, please don't do it. 
UPDATE 12th SEPTEMBER 2012:
Here are some name and shame, the people and companies using my logo creation without permission. It seems it would of been a great idea to offer this icon for sale, at $1.00 a pop we could of made over $100
https://www.facebook.com/RajanikanthJokes
https://www.facebook.com/eyewebsupport
https://www.facebook.com/intomindsblog
http://takboprintipe.wordpress.com/2012/08/16/celebrating-100-likes-thank-you/
https://www.facebook.com/BharathGC.fanpage
https://www.facebook.com/ImmortalFrames
https://www.facebook.com/MegaEventsEntertainment
https://www.facebook.com/iCrackedAustralia
https://www.facebook.com/KrystaHankeeMemorialFund
https://www.facebook.com/pages/Waverly-Place-Crafts/262015157160979
https://www.facebook.com/Element3d/timeline
https://www.facebook.com/lane.out.the.back
https://www.facebook.com/FacetRE
https://www.facebook.com/LiterallyLolling
https://www.facebook.com/soulstealermovie
https://www.facebook.com/benmarioninstitute
https://www.facebook.com/Deadpool001
https://www.facebook.com/pages/Two-Turtle-Doves/290880767669908
https://www.facebook.com/AMDPhenomII.X4.955BlackEdition
https://www.facebook.com/JALWABOUTIQUE
https://www.facebook.com/rakddl
https://www.facebook.com/TheJungleGypsy
https://www.facebook.com/neo.intelligence111
https://www.facebook.com/ConlonLaw
https://www.facebook.com/TheBeardJHB
https://www.facebook.com/LittleLevendi